LITERATURE & LANGUAGE ARTS
CLASSROOM POSTERS INDEX -


19thC American Authors


20thC American Authors


Alphabets


Am. Authors Timelines


Authors & Writers - alpha list


Banned Books


Great British Writers


Children's Literature


Classic Children's Authors


Fairy Tales & Folklore


Fireside Poets


Grammar


Great Thinker Quotes


Historic Reading Posters


History Through Literature


Latino Writers


Literature Drama


Literary Elements


Middle Ages Literature


Nursery Rhymes


Poetry Forms


Poetry & Quotes


Prose


Reading in Art


Reading Motivation


Shakespeare


Voices of Diversity


Women Writers


Writers/Changed the World

................................

LINKS FOR LEARNING


LESSON PLAN IDEAS


BOOKSHELVES


THIS DAY IN HISTORY

---
---
---

---
Charles Dickens Posters, Books, Videos, Links for Learning

for the language arts and social studies classrooms, home schoolers and Charles Dickens scholars.
---
literature > CHARLES DICKENS POSTERS | 2 < notable men < social studies
---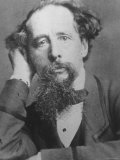 Charles Dickens
b. 2-7-1812; Portsmouth, England
d. 6-9-1870
Charles Dickens, a Victorian era English author and social critic, was extremely popular for his storytelling capabilities and memorable characters.
Dicken's work was originally serialized as it made the stories inexpensive and easily assessable to the mass audience; today's soap opera might be a comparison of the anticipation with which each installment was awaited. Dicken's characters are among the best known in literature - Scrooge and Tiny Tim from "A Christmas Carol", "Great Expectations" - Pip, Miss Haversham and Estella; Charles Darnay from "A Tale of Two Cities"; "David Copperfield", and "Oliver Twist" with the Artful Dodger and Fagin.
Dicken's early family life appeared to be relatively comfortable until his father was put in debtor's prison for living beyond his means; at the age of twelve Dicken's was helping to support his family by pasting labels on polish jars for ten hours a day at six shillings a week. He never forgave his mother for making him stay with the work long after the economic need had passed.
As a young adult Dicken's became a journalist after finding the law not to his liking. The journalism allowed him travel experiences, which with his childhood memories, lead to expressing his outrage of social conditions.
---
DICKENS QUOTES ~



• CHARLES DICKENS POSTERS
Literature, Poetry and Language Arts

---

---

Paradox - a statement or group of statements that leads to a contradiction or a situation which (if true) defies logic or reason, similar to circular reasoning.

"It was the best of times, it was the worst of times."

The Tale of Two Cities by Charles Dickens

• more Literary Terms posters

---

---

---

Queen Victoria
b. 5-24-1819; Kensington Palace, London, England
d. 1-22-1901; Isle of Wight


Queen Victoria began her reign in 1837 (age 18) and Charles Dickens was already well known for his Pickwick Papers, published in serial form in 1836.

---

more Charles Dickens Posters 2
• more Authors posters

---
• "Subdue your appetites, my dears, and you've conquered human nature."~ Boz
• "I hold my inventive capacity on the stern condition that it must master my whole life, often have complete possession me, make its own demands on me, and sometimes for months together put everything else away from me ... Whoever is devoted to an art must be content to deliver himself wholly up to it and to find his recompense in it." Letter to Mrs. Winter, 1855
• "In the little world in which children have their existence, whosoever brings them up, there is nothing so finely perceived and so finely felt as injustice." ~ Great Expectations
• "It was the best of times, it was the worst of times, it was the age of wisdom, it was the age of foolishness, it was the epoch of belief, it was the epoch of incredulity, it was the season of Light, it was the season of Darkness, it was the spring of hope, it was the winter of despair, we had everything before us, we had nothing before us..." ~ A Tale of Two Cities
• "No one is useless in this world who lightens the burdens of another."

CHARLES DICKENS BOOKS, VIDEO, AUDIO
Charles Dickens Four Complete Novels (Great Expectations, Hard Times, A Christmas Carol, A Tale of Two Cities)

American Notes for General Circulation- (1842) Charles Dickens was the most famous of many travelers of his time who journeyed to America, curious about the revolutionary new civilization that had captured the English imagination. His frank, often humorous descriptions in his 1842 account cover everything from his uncomfortable sea voyage to an ecstatic narrative of his visit to Niagara Falls. Yet Dickens is also critical of American society, its preoccupation with money, and reliance on slavery, as well as the rude, unsavory manners of Americans and their corrupt press. Above all, American Notes is a lively chronicle of what was for Dickens an illuminating encounter with the New World.
page 2 - books & illustrations
---
LINKS FOR LEARNING : CHARLES DICKENS
---
---
I have searched the web for visual, text, and manipulative curriculum support materials - teaching posters, art prints, maps, charts, calendars, books and educational toys featuring famous people, places and events - to help teachers optimize their valuable time and budget.
Browsing the subject areas at NetPosterWorks.com is a learning experience where educators can plan context rich environments while comparing prices, special discounts, framing options and shipping from educational resources.
Thank you for starting your search for inspirational, motivational, and educational posters and learning materials at NetPosterWorks.com. If you need help please contact us.
---