MUSIC POSTERS


Ballet


Ballet Dancers


Black History Music


Composers


Dance


Notable Dancers


Dance in Art


Native American Dance


Jazz


Musicals


Music Instruments


Guitar & Guitarists


Piano & Pianists


Opera


Violins & Violinists


Women in Music

................................
---
---
---

In Dahomey (1903) was the first all-Black musical on a major Broadway stage. Performed over 1,100 times in the US and England between 1902 and 1905, In Dahomey was created and performed entirely by African Americans, showcasing the talent of conservatory-trained composer Will Marion Cook and the popular vaudevillians Bert Williams and George Walker. The lyrics were written by African American poet and author Paul Lawrence Dunbar and Alex Roger. (FYI - Dunbar was a childhood friend of Orville and Wilbur Wright in Dayton, OH & today the African country of Benin is the site of the former prominent kingdom of Dahomey.)
---
---
The musical Dixiana (1930) is notable as the first screen appearance of Bill "Bojangles" Robinson and for the last third of the movie being recorded in Technicolor. Dixiana also starred Bebe Daniels and Everett Marshall.
---
The 2006 Dreamgirls movie, starring Jamie Foxx, Beyonce Knowles, and Eddie Murphy, was adapted from the 1981 Broadway musical inspired by the show business aspirations and successes of R&B acts such as The Supremes, The Shirelles, James Brown, Jackie Wilson, and others.
---
---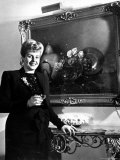 Evita
(sorry - musical posters not available)
Evita Peron of Argentina served as the inspiration for the musical Evita which debuted in London (1978), Broadway (1979), and as a movie in 1996. Among the actresses playing the title role on Broadway was Patti Lupone, great grand niece of 19th century opera star Adelina Patti. Pop star Madonna played the title role in the movie.
---
previous page | top | next
music > musicals index | a | b | c | D-E | f | g | h-i | j-k | l | m | n-o | p-r | s | t-u-v | w-x-y-z < dance
---
I have searched the web for visual, text, and manipulative curriculum support materials - teaching posters, art prints, maps, charts, calendars, books and educational toys featuring famous people, places and events - to help teachers optimize their valuable time and budget.
Browsing the subject areas at NetPosterWorks.com is a learning experience where educators can plan context rich environments while comparing prices, special discounts, framing options and shipping from educational resources.
Thank you for starting your search for inspirational, motivational, and educational posters and learning materials at NetPosterWorks.com. If you need help please contact us.
---