BLACK HISTORY
POSTER INDEX

Athletes


Great Af-Am Artists


African American Writers


Civil Rights


Great Black Americans


Stars Harlem Renaissance


Continent of Africa


Great Black Innovators


Kwanzaa


Black Military History


Black History Bio Timelines


Musicians & Entertainers


Outstanding Cont Af-Ams


Poetry & Quotations


Underground Railroad


notable men-list


notable women-list


Black History eCards

---
BLACK HISTORY ECARDS

---
---
BOOKS
ABOUT THE UNDERGROUND RAILROAD
---
---
---
---
---
The Schomburg Center
for Research in Black Culture:
LEST WE FORGET,
THE TRIUMPH OVER SLAVERY
UNESCO -2004
YEAR TO COMMEMORATE THE
STRUGGLE AGAINST SLAVERY
& ITS ABOLITION
---

---
The Underground Railroad Black History Posters
---
history > Black History > UNDERGROUND RAILROAD < peace & justice < social studies
---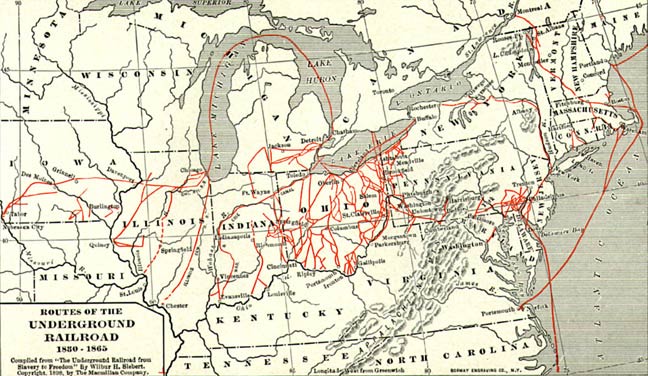 The Underground Railroad was the name given to the multitude escape routes and assistance provided to runaway slaves as they moved northward toward free states and Canada, and sometimes to Mexico and the Caribbean Islands, prior to the American Civil War. It is estimated that as many as 100,000 "passengers" walked miles through forests and swam rivers at night to reach "depots", with the assistance of "conductors" and "station masters", between 1830 and 1861.
---
Poster Text: The Underground Railroad was not a railroad, and it was not underground. It was a secret system of routes used by runaway slaves to escape the South before the Civil War. Most routes lead into the northern states and Canada, but some led to the Caribbean. Mexico, and western U.S. territories. The Underground Railroad began in the 1700s, when Quakers and abolitionists fed, hid, and guided runaways during their escape from slavery. By the 1830s, a few abolitionists communities were working together along the Underground Railroad. Because it was informal and illegal, and records were not kept, the exact number of people helped by the Underground Railroad will never be known. Most historians estimate that about 40,000 slaves used it to escape – a small but important percentage, considering there were four million slaves in the South in 1860. Free and runaway blacks did most of the work as the "conductors" and "stationmasters" who assisted escaping slaves. Slaves who reached freedom would often return to the south to liberate family or friends. Most runaways were men between the ages of 16 and 35. They traveled alone at night, using the North Star to guide them when the sky was clear. On cloudy nights, runaways used tree moss as their guide, since moss often grows on the north side of trees. Runaways also received hidden signs along the routes. Some stationmasters hung lanterns in windows of "stations" or displayed patterned quilts that actually held secret messages for runaway slaves. The underground Railroad came to an end when the Civil War began.
Frederick Douglass, Harriet Tubman, Josiah Henson, Levi Coffin.
• more map posters
---
Conductors on the Underground Railroad
Conductors on the Underground Railroad moved the runaway slaves from station to station on their journey to freedom. The conductor would sometimes pretend to be a slave to enter a plantation. Once inside, the conductor would then organize the escape and direct the runaways on the first leg of their journey north. Pictures of Dr. Bartholemew Fussell, John Hunn, Abigail Goodwin, Daniel Hughes, Robert Purvis, Samual Rhodes (sic), William Whipper, Laura Smith Haviland, William Wright, Samual D. Burris (sic), William Wells Brown, Harriet Tubman, William Still, Josiah Bushnell Grinnell, Moses Cheney, Elijah Pennypacker.
---
---
Frederick Douglass
b. 2-14-c.1818; MD
d. 2-20-1895
"Strive earnestly to add to your knowledge. So long as you remain in ignorance, so long will you fail to command the respect of your fellow man."
Born into slavery, Frederick Douglass grew up to become a leader in the antislavery and women's rights movements. He was the first black citizen to hold a high rank in the United States government.
• more Frederick Douglass posters

---
Josiah Henson
b. 6-15-1789; Charles Co., MD
d. 5-5-1883; Dresden, Ontario, Canada
Josiah Henson, born into slavery, became an author and minister after he escaped to Canada in 1830. He founded "Dawn Settlement" near Dresden, Ontario, that offered former slaves escaped from the U.S. the chance to start a new life.
Josiah Henson is considered the model for Harriet Beecher Stowe's character Uncle Tom.
FYI- Josiah was the uncle of polar explorer Matthew Henson.
---
---
William Still
b. November 1819 or 10-7-1821; NJ
d. 7-14-1902
• William Still was a free born black business man who aided runaway slaves. His family sheltered poet and author Frances Ellen Watkins Harper for a time.
---
---
The Separation of the Mother and Child, illustration from Uncle Tom's Cabin by Harriet Beecher Stowe
---
John Brown (1800-59), the Martyr, (Pub. by Currier & Ives, 1870)
---
A folk song "Follow the Drinking Gourd" gave coded directions to runaway slaves. Using the constellation pattern Ursa Major, commonly known as the Big Dipper in North America, helped fugitive slaves locate Polaris - the North Star, thus giving them a reference point in night time travels.
Frederick Douglass named his abolitionist newspaper "The North Star."
Images from Wikipedia.
---
---
I have searched the web for visual, text, and manipulative curriculum support materials - teaching posters, art prints, maps, charts, calendars, books and educational toys featuring famous people, places and events - to help teachers optimize their valuable time and budget.
Browsing the subject areas at NetPosterWorks.com is a learning experience where educators can plan context rich environments while comparing prices, special discounts, framing options and shipping from educational resources.
Thank you for starting your search for inspirational, motivational, and educational posters and learning materials at NetPosterWorks.com. If you need help please contact us.
---