The composite poster "African American Women" is no longer available. I've decided to continue to display the poster with alternative images, if available, of these important women.
African American Women Poster details-
Marian Anderson (1902-1993)
Marian Anderson is considered by many to be one of the greatest contraltos ever. She gained her first public renown in 1925 when she appeared as a soloist with the New york Philharmonic. Faced with limited concert opportunities in the United States because of race discrimination, Anderson spent the next dozen years touring Europe and South America, where she became a major star. After returning the U.S. in the late 1930s her career flourished on the concert and operatic stage, and she received numerous honors both as an artist and as an individual whose powerful character was an inspiration to fellow artist and the public alike. Her 1939 concert at the Lincoln Memorial was a signal event in the national consciousness, transforming an ugly racial incident into a mass affirmation of human dignity and equality. (see Eleanor Roosevelt)
Josephine Baker (1905-1975)
Entertainer extraordinaire, Josephine Baker was kown throughout the world for her dance technique, daring costumes and distinctive delivery of lyrics. She moved to Paris as a teenager and danced with La Revue Negre. She soon gained top billing, upstaging such French performers as Maurice Chevalier and Mistinguett. But while she was one of France's most beloved performers, she was never well received in the United States. (As late as the 1950s, Baker was barred from segregated nightclubs and hotels during an American tour.) She became a French citizen in 1937, and when Hitler's troops occupied France during World War II, Baker joined the French Resistance. She later received the French Legion of Honor medal and was accorded the status of Distinguished French Citizen.
Mary McLeod Bethune (1875-1955)
Pioneer of African-American education, founder of a girls' vocational school that she established on a shoestring and then developed into a fully accredited four-year college (Bethune-Cookman College), adviser to President Franklin Roosevelt and head of a major government agency, pioneer of black social and political grass roots organizations, civil rights activist, participant in the organizing of the United Nations- Mary McLeod Bethune played many roles throughout her long and vigorous life, all of them devoted to the self-empowerment of black Americans and equality of opportunity for all. As both a powerful communicator and a model of purposeful action on behalf of others, she was on the the most influential African-American leaders of the century.
Gwendolyn Brooks (1917 - 2000)
Gwendolyn Brooks was the first black woman to achieve critical recognition as a poet, Her poem "Eventide" was published by American Childhood when Brooks was thirteen. She frequently contributed poetry to the African-American newspaper Defender after her graduation from Wilson Junior College in 1936, and when her Street in Bronzeville was published in 1945, Mademoiselle selected her as one of the year's ten exceptional women. With Annie Allen published in 1949, Books became the first black woman to receive the Pulitzer Prize, in 1950. In 1971 the nations' African-American poets put together a collection of her work entitled To Gwen with Love, a volume that honored her leadership and advocacy of black consciousness. (poetry posters)
Shirley Chisholm (1924-2005)
Shirley Chisholm has the distinction of being the United State's first black congresswomen. She was elected in 1968 to represent the Bedford-Stuyvesant and Bushwick areas of Brooklyn, which had a divers constituency of African-Americans, Puerto Ricans, Jews, Italians, Ukranians and Poles. She remained in congress for fourteen years and became known for her criticism of the Vietnam War and for advocating the interests of the urban poor. In 1972 Chisholm made history again when she became the first woman to run for president. She received 152 delegate votes at the Democratic primary convention, but George McGovern was elected to run against incumbent Richard Nixon. Chisholm documented her presidential campaign in the book The Good Fight. (Shirley Chisholm poster page)
Dorothy Dandridge (1922-1965)
In 1954 Dorothy Dandridge was the first black woman to be nominated for an Academy Award as best actress. Her movie debut was a bit part in the Marx Brothers classic, A Day at the Races (1937), and she continued to play small roles in Hollywood films of the '40s. As the leading lady of Carmen Jones (1954) and Porgy and Bess (1959), Dandridge became one of the first black performers to achieve star status in Hollywood, but the number of roles offered to her were few. Since Dandridge's untimely death in 1965, many posthumous awards have been given for her outstanding contributions in the field of entertainment. Thanks to the efforts of Sidney Poitier, Harry Belafonte and Joel Fluellen, her star was embedded in the Hollywood Walk of Fame.
Katherine Dunham (1910-2006)
John Martin, a critic for the New York Times, once wrote that there is not one Broadway show or Hollywood movie that includes dance that does not owe something to Katherine Dunham. She received a master's degree in social anthropology at the University of Chicago before she traveled to the West Indies, where she discovered what was to become the foundation for her artistic expression: African and Caribbean dance. She was the first to bring these styles of dance to the United States. A gifted choreographer, Dunham worked on the movies Emperor Jones (1939) and Cabin in the Sky (1940). She was the first black choreographer to work with the Metropolitan Opera when she was hired for its 1963 production of Aida. (Katherine Dunham in Black Innovators poster series) (Dance posters)
Lillian Evanti (1890-1967)
Lillian Evanti was the first African-American to develop a professional career in grand opera, in the 1920s. Between 1925 and 1928 she studied and performed in many of the principal opera houses in France and Italy. When she auditioned for the Metropolitan Opera in 1932, the company's exclusionary racial policy made it impossible for her to perform there. That same year Evanti gave a recital at the Belasco Theater, the only prestige stage in Washington, D.C. to present performances by African-American artists to segregated audiences. Two years later she gave a command performance at the White House. Evanti made several concert tours in Africa, where she was decorated for her cultural contributions in Nigeria, Liberia, and Ghana. In 1957 she wrote the independence song for Ghana. [opera posters]
Althea Gibson (1927-2003)
One of the world's greatest tennis players, Althea Gibson dominated women's tennis in 1957 and 1958, years in which she won consecutive Wimbledon and U.S. Open titles. Gibson won the American Tennis Association competition for ten straight years between 1947 and 1956. Her admission to the United States Lawn Tennis Association in 1950 was the beginning of the end of racial barriers in tennis. She became the first black player to win a championship (the French Open in 1956) and later the first black women to win all the world's singles title for women. By 1957 she was the top-ranked woman player in the United States. [athletes posters]

Lorraine Hansberry (1930-1965)
Lorraine Hansberry's play A Raisin in the Sun successfully ran for 538 performances at Broadway's Ethel Barrymore Theatre, The play sensitively explored the themes of racism, pride, honor and self-respect and was translated into more than thirty languages. It was the first time an African-American woman had a play on Broadway, and Hansberry also became the first black and youngest American to win the New York Drama Critics Circle Award for Best Play of the Year. She also wrote the play The Sign in Sidney Brustein's Window (1964). and excerpts for her journals, letters, speeches and plays were compiled in To Be Young, Black and Gifted, published in 1970. Tragically, Hansberry died of cancer at the age of thirty-four. (women authors) (more posters in literature drama series)
Dorothy I. Height (1912-2010)
Dorothy Height has been an acclaimed leader in the struggle for human rights for all people for more than five decades. She participated in virtually all major civil and human rights events in the 1950s and 1960s, and in 1962 she was appointed a member of the President's Commission on the "Status of Women." She also served as the official U.S. delegate for the United Nations Mid-Decade Conference on Women in 1980. As president of the National Council of Negro Women (NCNW), she initiated food, child care, housing, and career educational programs that embody self-help principles. In 1986, she conceived and organized the Black Family Reunion Celebration to emphasize the positive aspects of the African-American family.
Lena Horne (1917-2010)
Singer/actor Lena Horne is known and loved not only for her musical and dramatic talents but also for her continual interest in and support of many humane causes. She started in show business when she joined the chorus line at the Cotton Club in 1933, For there she toured with Noble Sissle's orchestra and later joined Charlie Barnett's band, with who she made her firs records, In the early 1940s she went to Hollywood - there she became the first black woman ever to sign a term contract in film. Her films include Panama Hattie (1942), Cabin in the Sky (1943), and Stormy Weather (1943). Her most popular recordings include "Stormy Weather." "The Lady Is a Tramp" and "Mad About the Boy." In 1981 Horne opened a one-woman show on Broadway called Lena Horne: The Lady and Her Music, for which she received a Tony Award. [actress posters]
Mahalia Jackson (1911-1972)
Mahalia Jackson, the "Queen of Gospel Music," left a legacy of gospel recordings and performances that remain unmatched today. She grew up in New Orleans, and while she was familiar with the records of Bessie Smith and other blues singes, her preacher father allowed only religious music to be played at home. after moving to Chicago at sixteen, she joined the Salem Baptist choir; in 1934 she made her first record, and in 1945 she achieved national fame with "Move On Up a Little Higher," a million-copy seller. In 1950 Jackson made her first appearance at Carnegie Hall. Jackson has been credited with popularizing the gospel sound with her renowned recordings Precious Lord, Bless This House and Let the Church Roll On. [musicians posters]
Mae Jemison (b. 1956) Mae Jemison became the first African-American woman astronaut to participate in a NASA shuttle mission. Her voyage on the space shuttle Endeavor on September 11, 1992, was the first Japanese-American cosponsored mission specialist, responsible for conducting various experiments during the flight. Jemison grew up in Chicago, Illinois. She received her B.S. degree in chemical engineering from Stanford University, where she also completed all of the degree requirements for African and African-American studies, and her M.D. degree from Cornell University. She completed her medical internship at the University of Southern California Medical Center in Los Angeles.
(astronauts posters)
Barbara Jordan (1936-1996)
Texas attorney Barbara Charline Jordan announced her candidacy for the Democratic nomination for state representative on Febuary 3, 1962, borrowing the $500 filing fee. Despite a vigorous campaign, she lost, then ran and lost again in 1964. She was finally successful in her 1966 run for the Texas Senate, serving there until 1972. Jordan's eletion to the U.S. House of Representatives in 1972 made her the first African-American woman ever elected to that body from the South. A year and a half later she became one of the best-known political figures in the country when she served as a member of the judiciary committee debating Nixon's impeachment. Her 1976 keynote address to the Democratic National Convention confirmed her reputation as one of the most commanding and articulate public speakers of her era. (political process posters)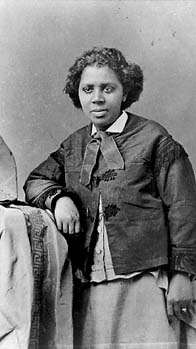 Edmonia Lewis (1845-1890?)
Sculptor Edmonia Lewis was born to a Chippewa mother and an African father, who named her "Wildfire." She grew up with her mother's family in Albany, New York, and spent her childhood "fishing and swimming and making moccasins." In the fall of 1859 she was admitted to Oberlin College, and she later studied sculpting privately with Edmund Brackett. Lewis became known through the bust of such famous men as Abraham Lincoln, John Brown and Henry Wadsworth Longfellow. Her statue The Death of Cleopatra received much critical acclaim; it weighted two tons and took four years to complete. Her most popular work is Forever Free, which shows an African-American man and woman at the moment of their freedom, removing their shackles. [women artists]
Rosa Parks (1913-2005)
In Montgomery, Alabama, on December 1, 1955, Rosa Parks sat in a row of seats just beyond the section of the bus that was designated for whites only. When a white man boarded the bus and was unable to locate an empty seat, the bus driver told Parks and the others seated by her to give up their seats for him. Rosa Parks refused. She was arrested, jailed and fined fourteen dollars. On the night of her arrest, the Women's Political council rallied around parks and launched the Montgomery bus boycott. They distributed thousands of leaflets and encouraged churches, the NAACP and other civil rights organizations to lend their support to and participate in the boycott. As a result of Park's courageous stand, Montgomery succumbed to the boycott that would inspire civil rights activists nationwide. (more Rosa Parks posters)
Pearl E. Primus (1919-1994)
Dancer, choreographers and anthropologist Pearl Primus is one of the world's foremost authorities on African dance. She was trained in classical and preclassical dance by the master teacher Louis Horst and studied with such great dance pioneers as Martha Graham, Doris Humphrey, Hanya Holm and Charles Weidman, she received her Ph.D. degree in anthropolgy from New York University. Her studies and travel in the interior villages of Africa, the Caribbean and throughout the souther United States have given Primus unique training and insight into the African dance heritage. in July 1991 she was awarded the national Medal of Arts by President Bush, the highest honor given by the National Endowment for the Arts. (more dance posters)
Mary Church Terrell (1863-1954) was a champion of human rights throughout most of her life. In 1954, the year Brown v. Board of Education declared segregation unconstitutional, she marched with her cane at the head of the picket lines at the age of ninety. Terrell headed many progressive activist organizations, including The Colored Women's League of Washington, D.C., the National Association of colored Women, and the International Council of Women of the Darker Races, which promoted greater understanding and knowledge of people of color throughout the world. She gave her support to Susan B. Anthony and was instrumental in the international women's movement. In 1919 Terrell received international recoginition at the International Peace Congress in Zurich.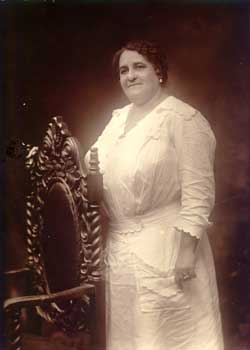 Maggie Lena Walker (1867-1934)
Maggie Lena Walker, a successful business woman, financier and civic leader, is acknowledged as the first American woman to establish and mange a bank. Walker was born in Richmond, Virginia, where she attended public schools and graduated from the Armstrong Normal and High School in 1883. In 1899 she assumed leadership of the Right Worthy Grand Council of the Independent Order of St. Luke, an organization she had joined when she was fourteen. Its mission was to minister to the sick and to promote humanitarian causes. This successful organization owned a weekly newspaper, the St. Luke Herald, and eventually founded the St. Luke Bank and Trust Company with Walker as president. This bank operates today as the Consolidated Bank and Trust company, the oldest black-owned and -managed bank in America.
Maggie Walker was committed to improving the quality of life for her people both economically and socially. She worked actively in several civic organization, including the NAACP and the National Negro Business League. In 1978 her residence in Richmond, Virginia, was established as a national historic site by congressional legislation.