BLACK HISTORY
POSTER INDEX

Athletes


Great Af-Am Artists


African American Writers


Civil Rights


Great Black Americans


Stars Harlem Renaissance


Continent of Africa


Great Black Innovators


Kwanzaa


Black Military History


Black History Bio Timelines


Musicians & Entertainers


Outstanding Cont Af-Ams


Poetry & Quotations


Underground Railroad


notable men-list


notable women-list


Black History eCards

---
---
Suffrage,
Votes for Women
Free PDF poster @
SofS Washington
---

---
---
(no commercially
available image)


Ella Baker
b. 12-13-1903; Norfolk, VA
d. 12-13-1986; NYC
Ella Josephine Baker, a leading African American civil rights and human rights activist beginning in the 1930s, worked behind-the-scene over five decades.
Ella Baker quotes ~
• "One of the things that has to be faced is the process of waiting to change the system, how much we have got to do to find out who we are, where we have come from and where we are going."
• "I have always felt it was a handicap for oppressed peoples to depend so largely upon a leader, because unfortunately in our culture, the charismatic leader usually becomes a leader because he has found a spot in the public limelight. . ."

---
---
Daisy Lee Gatson Bates
b. 11-11-1914; Huttig, AR
d. 11-4-1999; Little Rock, AR
Publisher, writer and civil rights activist Daisy Bates played a leading role in the Little Rock integration crisis of 1957.
Bates was elected president of the Arkansas State Conference of NAACP branches in 1952; wrote her memoir, The Long Shadow of Little Rock
, a winner of the 1988 National Book Award; worked in Lyndon Baines Johnson's anti-poverty program; served the Democratic National Committee; and was awarded the 1959 Spingarn Medal with the Little Rock Nine.
Daisy Bates quotes ~
• "From without, no wonderful effect is wrought within ourselves, unless some interior, responding wonder meets it."
• "What plays the mischief with the truth is that men will insist upon the universal application of a temporary feeling or opinion."
• "No man or woman who tries to pursue an ideal in his or her own way is without enemies."
---
Halle Berry
b. 8-14-1966; Cleveland, OH

Actress, former fashion model, and beauty queen Halle Berry became the first and, as of 2011, only woman of African American descent to have won the Academy Award for Best Actress (Monster's Ball
, 2001).
---
Mary McLeod Bethune
b. 7-10-1875; Mayesville, SC
d. 5-18-1955; Daytona Beach, FL

Mary McLeod Bethune, daughter of former slaves, was a tireless educator best remembered as a the founder of the Daytona Educational and Industrial Training School for Negro Girls in 1904. The school evolved into the Bethune-Cookman University.
Mary McLeod Bethune quotes ~
• "Invest in the human soul. Who knows, it might be a diamond in the rough."
• "If we accept and acquiesce in the face of discrimination, we accept the responsibility ourselves. We should, therefore, protest openly everything . . . that smacks of discrimination or slander."
• "Cease to be a drudge, seek to be an artist."
• "The whole world opened to me when I learned to read."
• "The true worth of a race must be measured by the character of its womanhood."
• "Next to God we are indebted to women, first for life itself, and then for making it worth living."

---
Mary Jane Blige
b. 1-11-1971; The Bronx, NY

Mary j. Blige, singer, record producer, and actress, has won nine Grammy Awards, received the World Music Legends Award for hip hop and soul, selling over 48 million records worldwide (2008).
---
Gwendolyn Brooks
b. 6-7-1917; Topeka, KS
d. 12-3-2000; Chicago
Gwendolyn Brooks, poet and teacher, was awarded the 1950 Pulitzer Prize, received a National Book Foundation Medal for Distinguished Contribution to American Letters, and was appointed Poet Laureate Consultant in Poetry to the Library of Congress in 1985.
---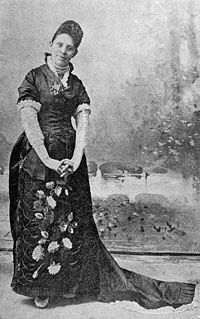 Hallie Quinn Brown
Hallie Quinn Brown
b. 3-19-1849; Pittsburgh, PA
d. 9-16-1949; Wilberforce, OH
Writer and activist Hallie Quinn Brown was a teacher and educator, serving as dean of Allen University, principal of Tuskegee Institute in Alabama from 1892 to 1893, and a professor at Wilberforce in 1893. She was a frequent speaker about temperance and represented the U.S. at the International Congress of Women in London in 1899. Brown also spoke at the Republican National Convention in 1924 and later directed campaign work among African American women for President Calvin Coolidge.
---
Grace Bumbry
b. 1-4-1937; St. Louis, MO

Mezzo-soprano opera singer Grace Bumbry, noted for her "fiery temperament and dramatic intensity on stage", was the first black singer to perform at Bayreuth in 1961.
---
Nannie Helen Burroughs
b. 5-2-1879; Orange, VA
d. 5-20-1961; Washington, DC
Nannie Helen Burroughs was a teacher, orator, religious leader and businesswoman who gained national recognition from her 1900 speech "How the Sisters Are Hindered from Helping" at the National Baptist Convention. The school she founded, the National Training School for Women and Girls, emphasized the importance of being proud black women.
Nannie Helen Burroughs quotes ~
• "What we need are mental and spiritual giants who are aflame with a purpose ... We're a race ready for crusade, for we've recognized that we're a race on this continent that can work out its own salvation."
• "When the Negro learns what manner of man he is spiritually, he will wake up all over. He will stop playing white even on the stage. He will rise in the majesty of his own soul."
• "To struggle and battle and overcome and absolutely defeat every force designed against us is the only way to achieve."

---
previous page | top | next
a | B | c | d | e | f | g | h | i-j | k | l | m | n-o | p | r | s | t-u-v | w-z
Pioneers of Women's Rights Movement Posters
---
I have searched the web for visual, text, and manipulative curriculum support materials - teaching posters, art prints, maps, charts, calendars, books and educational toys featuring famous people, places and events - to help teachers optimize their valuable time and budget.
Browsing the subject areas at NetPosterWorks.com is a learning experience where educators can plan context rich environments while comparing prices, special discounts, framing options and shipping from educational resources.
Thank you for starting your search for inspirational, motivational, and educational posters and learning materials at NetPosterWorks.com. If you need help please contact us.
---