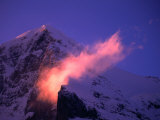 Purple Mountains,
Poster
Fr = pourpre, violet
Gr = purpurrot, violett
Italian = viola
Sp = púrpura, violeta

---
amethyst, eggplant, grape, lavender,
lilac, mauve,
magenta, mulberry, orchid, plum,
violet, wine
Violet, also known as purple, is a mixture of the primary colors of Red and Blue.
Purple became associated with royalty, power, and wisdom because the ancient source of purple dye, the murex sea shell, was difficult to obtain, thus reserving the color for nobility.
In a subtractive color system Violet / Purple is a secondary color from the mixture of the primary Red and Blue. Purple pigment + White pigment produces tints of lighter purple; Purple mixed with Black pigment results in darker shades that appear black. Purple + primary Red pigment results in tertiary color reddish purple; Purple + Blue = bluish purples. Purple + primary Yellow (complimentary colors) = shades of hues in the browns and grays.

---
"Purple" quotes ~
• "I never saw a Purple Cow; I never hope to See One; But I can Tell you, Anyhow, I'd rather See than Be One." ~ Frank Gelett Burgess
• "Who in the rainbow can draw the line where the violet tint ends and the orange tint begins? Distinctly we see the difference of the colors, but where exactly does the one first blendingly enter into the other? So with sanity and insanity." ~ Herman Melville, Billy Budd
• "And they clothed him with purple, and platted a crown of thorns, and put it about his head. ..." ~ Bible
• "...my tyrian galley waits for thee, come down the purple sail is spread..." ~ Oscar Wilde

---