EDUCATIONAL, REFERENCE, &
CLASSROOM POSTERS INDEX -


art education & history


dance


early childhood


food & cuisine


geography


health & fitness


history


holidays


language arts & literature


math


motivational


music


notable people


peace education


pets & animals


theology


science


social studies


vocational education


Global PathMarkers


Free Poster Index


History of Posters

---

FAQS/ABOUT


SEARCH


CONTACT


LINKS FOR LEARNING


LESSON PLAN IDEAS


BOOKSHELVES


ECARDS


THIS DAY IN HISTORY

---
---

---
---
---
Anna Laetitia Barbauld
b. 6-29-1743; Leicestershire, England
d. 3-9-1825; Stoke Newington

As a "woman of letters", Anna Laetitia Barbauld, was a poet, essayist, children's author and teacher. Her primers provided a model for pedagogy, as a literary critic her anthology of 18th-century British novels established the field of study, her poetry leading to the development of Romanticism in England.

Anna Laetitia Barbauld quote ~
• "I do not know how to rejoice at this victory, splendid as it is, over Buonaparte [sic], when I consider the horrible waste of life, the mass of misery, which such gigantic combats must occasion."
• "We are called upon to repent of national sins, because we can help them, and because we ought to help them."

• Lessons for Children: Anna Laetitia Barbauld, Children's literature, Pedagogy, John Locke, Maria Edgeworth, Sarah Trimmer, Jane Taylor, Ellenor Fenn, Romanticism
---
John Barth
b. 5-27-1930; Cambridge, MD


Novelist, short-story writer, and professor John Barth, is known for the postmodernist (fragmentation, paradoxical) and metafictive quality (fiction that asks questions of being fiction, like a story about a writer writing a story), of his work.

John Barth quote ~
• "One of the things I miss about teaching is that students would tell me what I ought to read. One of my students, back in the 1960s, put me onto [Jorge Luis] Borges, and I remember another mentioning Flann O'Brien's At Swim Two-Birds in the same way."
---
Clara Barton
b. 12-25-1821; Oxford, MA
d. 4-13-1912
Humanitarian Clara Barton was a teacher and nurse who is remembered for her work with wounded in the American Civil War and organizing the American Red Cross. The International Committee of the Red Cross had been established in Europe "to protect the victims of international and internal armed conflicts ... the war wounded, prisoners, refugees, civilians, and other non-combatants." Barton could only 'sell' the idea of the Red Cross with the expanded vision including any great national disaster because post-Civil War Americans could not imagine the US would ever be involved in another conflict as horrendous as the Civil War.
Clara Barton quotes ~
• "I have an almost complete disregard of precedent, and a faith in the possibility of something better. It irritates me to be told how things have always been done. I defy the tyranny of precedent. I go for anything new that might improve the past."
• "I may sometimes be willing to teach for nothing, but if paid at all, I shall never do a man's work for less than a man's pay."

---
Jacques Barzun
b. 11-30-1907; Creteil, France
d. 10-25-2012; San Antonio, TX
Jacques Barzun, at age 12, was sent by his father to the U.S. for a broad liberal education. Barzun became a professor of history and founded the discipline of "cultural history".
Jacques Barzun quotes ~
• "Political correctness does not legislate tolerance; it only organizes hatred."
• "A man who has both feet planted firmly in the air can be safely called a liberal as opposed to the conservative, who has both feet firmly planted in his mouth."
• "Teaching is not a lost art, but the regard for it is a lost tradition."
• "Art distills sensation and embodies it with enhanced meaning in a memorable form - or else it is not art."
• "If civilization has risen from the Stone Age, it can rise again from the Wastepaper Age."

• From Dawn to Decadence: 500 Years of Western Cultural Life 1500 to the Present, Jacque Barzun
---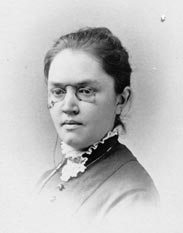 Katherine Lee Bate
(no commercially
available image)
Katharine Lee Bates
b. 8-12-1859; Falmouth, MA
d. 3-28-1929
Katharine Lee Bates, a professor of English literature at Wellesley College, is best remembered as the author of the poem "America, the Beautiful", which was inspired by the view from the summit of Pikes Peak.
Katharine Lee Bates quotes ~
• "America! America! God shed his grace on thee, and crown thy good with brotherhood from sea to shining sea!"
• "Love planted a rose, and the world turned sweet."

---
previous page | top | next
Famous Educators List | a | BA | Be | Bi | Bl | Bo | Br | Bu
| c | d | e | f | g | h | i | j | k | l | m | n | o | p | r | s | t | u-v | w-z
---
I have searched the web for visual, text, and manipulative curriculum support materials - teaching posters, art prints, maps, charts, calendars, books and educational toys featuring famous people, places and events - to help teachers optimize their valuable time and budget.
Browsing the subject areas at NetPosterWorks.com is a learning experience where educators can plan context rich environments while comparing prices, special discounts, framing options and shipping from educational resources.
Thank you for starting your search for inspirational, motivational, and educational posters and learning materials at NetPosterWorks.com. If you need help please contact us.
last updated 12/2/13