anatomy


acupressure


addictions


diseases


ecology & environment


exercise


feng shui


mandalas


medicinal plants


mature health


Native American


nutrition


physicians & nurses


psychologists & psychiatrists


theology


yoga

................................
---
---
---

---
Albert Sabin, née Saperstein
b. 8-26-1906; Bialystok, Poland
d. 3-3-1993; Washington, DC

Medical researcher Dr. Albert Sabin is best remembered for developing an oral polio vaccine.
---
---
Jonas Salk
b. 10-28-1914; NYC
d. 6-23-1995; La Jolla, CA

"To a scientist fame is neither an end nor a means to an end."
Dr. Salk was a biologist and physician best known for the research and development of the first effective polio vaccine.

Jonas Salk quotes ~
• "Intuition will tell the thinking mind where to look next."
• "The reward for work well done is the opportunity to do more."

• more Heroes of the 20th Century posters
• Jonas Salk and the Polio Vaccine

---
Margaret Sanger, née Higgins
b. 9-14-1879; Corning, NY
b. 9-6-1966; Tucson, Arizona
Margaret Sanger was a birth control activist who gradually won support for a woman to decide how and when she would have children. She was the founder of the American Birth Control League which eventually became Planned Parenthood.
FYI - Margaret, who was the 6th child of 11 live births, spent her childhood caring for the household and siblings. Her mother, Anne Purcell Higgins, was a devout Catholic who went through 18 pregnancies before dying of tuberculosis and cervical cancer.
Margaret Sanger quotes ~
• "No woman can call herself free who does not own and control her body. No woman can call herself free until she can choose consciously whether she will or will not be a mother."
• "When motherhood becomes the fruit of a deep yearning, not the result of ignorance or accident, its children will become the foundation of a new race."

• reproductive system posters
• Roe v Wade Supreme Court poster
• The Autobiography of Margaret Sanger

---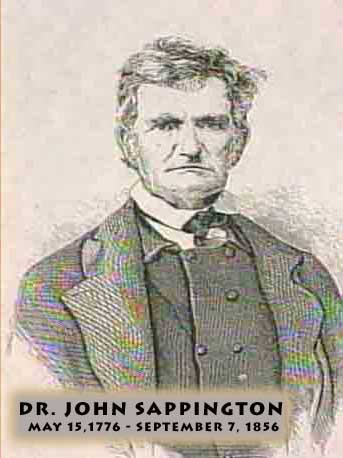 Dr. John Sappington

no commecially
available image
John Sappington
b. 5-15-1776; Havre de Grace, MD
d. 9-7-1856; Arrow Rock, MO
Dr. John Sappington, the author of the first medical book published west of the Mississippi River, is regarded as the first doctor to "effectively use quinine (from the chinchona plant) for the treatment of malaria and fevers."
In 1832 Dr. Sappington began marketing his Anti-Fever Pills in Missouri and founded a company to sell the pills nationwide. Eventually the value of the pills superceded the standard treatment of bleeding the sick patient, especially after Dr. Sappington revealed the formula for the pills in his medical book.
Dr. Sappington was friends with Senator Thomas Hart Benton and the artist George Caleb Bingham; he was also the father-in-law and grandfather of three Missouri governors.
---
previous page | top | next
health care practitioners list > a | b | c | d | e | f | g | h | i-j | k | l | m | n-o | p | r |
SA | Sc-Se | Sh-St | t | u-v | w | x-y-z
---
I have searched the web for visual, text, and manipulative curriculum support materials - teaching posters, art prints, maps, charts, calendars, books and educational toys featuring famous people, places and events - to help teachers optimize their valuable time and budget.
Browsing the subject areas at NetPosterWorks.com is a learning experience where educators can plan context rich environments while comparing prices, special discounts, framing options and shipping from educational resources.
Thank you for starting your search for inspirational, motivational, and educational posters and learning materials at NetPosterWorks.com. If you need help please contact us.
---