anatomy


acupressure


addictions


diseases


ecology & environment


exercise


feng shui


mandalas


medicinal plants


mature health


Native American


nutrition


physicians & nurses


psychologists & psychiatrists


theology


yoga

................................
---
---
---

Faye Wattleton
b. 7-8-1943; St. Louis, MO

Faye Wattleton, the daughter of a fundamentalist Church of God preacher, became a nurse-midwife in Harlem, the director of the Planned Parenthood office in Dayton, Ohio, and later president of national Planned Parenthood from 1978 to 1992.
---
Mary Edwards Walker
b. 11-26-1832; Oswego, NY
d. 2-21-1919
Civil War surgeon, Mary Walker, the only female recipient of the Medal of Honor awarded in the American Civil War, was also a feminist, abolitionist, prohibitionist, POW and alleged spy.
---
Justine Wanger, née Johnstone
b. 1-31-1895; Englewood, NJ
d. 9-4-1982; Santa Monica, CA
Justine Johnstone was a stage and silent screen actress, and Follies girl. After her retirement from the stage, and a divorce, she attended Columbia University becoming a pathologist. As Dr. Wanger she was an expert on syphilis and part of the team that developed the modern intravenous drip technique.
Johnstone attended the Emma Willard School in Troy, NY; other notable students at the school included Elizabeth Cady Stanton.
---
---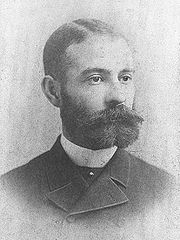 Daniel Hale Williams
Daniel Hale Williams
b. 1-18-1856; Hollidaysburg, PA
d. 8-4-1931; Idlewild, MI (stroke)
Daniel Hale Williams was the first African-American cardiologist. He is attributed with performing the first successful surgery on the heart; he also founded Provident Hospital, the first non-segregated hospital in the United States.
---
William Carlos Williams
b. 9-17-1883; NJ
d. 3-4-1963
Pediatrician and general practitioner of medicine, William Carlos Williams, is better remembered as a poet.
---
Leonard Wood
b. 10-9-1860; Winchester, NH
d. 8-7-1927; Boston, MA (surgery for brain tumor)
Physician, lawyer and soldier Leonard Wood, who served as Chief of Staff of the United States Army, and as personal physician to Presidents Grover Cleveland and William McKinley, is best remembered today as the namesake of Fort Leonard Wood in Missouri.
Wood was also friends with Theodore Roosevelt (well before the Spanish-American War), and was a candidate for the Republican nomination for President in 1920. Wood was descended from four Mayflower families.
---
previous page | top | next
health care practitioners list > a | b | c | d | e | f | g | h | i-j | k | l |
m | n-o | p | r | s | t | W | x-y-z
---
I have searched the web for visual, text, and manipulative curriculum support materials - teaching posters, art prints, maps, charts, calendars, books and educational toys featuring famous people, places and events - to help teachers optimize their valuable time and budget.
Browsing the subject areas at NetPosterWorks.com is a learning experience where educators can plan context rich environments while comparing prices, special discounts, framing options and shipping from educational resources.
Thank you for starting your search for inspirational, motivational, and educational posters and learning materials at NetPosterWorks.com. If you need help please contact us.
---