anatomy


acupressure


addictions


diseases


ecology & environment


exercise


feng shui


mandalas


medicinal plants


mature health


Native American


nutrition


physicians & nurses


psychologists & psychiatrists


theology


yoga

................................
---
---
---

---
---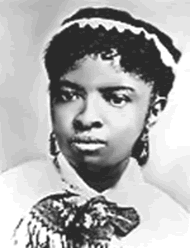 Mary Eliza Mahoney
Mary Eliza Mahoney
b. 5-7-1845; Dorchester, MA
d. 1-4-1926; (breast cancer)
Mary Eliza Mahoney worked for fifteen years at the New England Hospital for Women and Children as a cook, janitor, washerwoman and unofficial nurse's assistant before being admitted as a student into the nursing program, and becoming the first African American registered nurse in the U.S. In 1908, she co-founded the National Association of Colored Graduate Nurses (NACGN) with Adah Thoms.
---
Maimonides
b. 3-30-1135; Cordoba, Spain
d. 12-13-1204; Egypt
Moses Maimonides, a rabbi and philosopher, is also considered one of the greatest physicians of his time, writing a number of medical texts.
Oath of Maimonides: The eternal providence has appointed me to watch over the life and health of Thy creatures. May the love for my art actuate me at all time; may neither avarice nor miserliness, nor thirst for glory or for a great reputation engage my mind; for the enemies of truth and philanthropy could easily deceive me and make me forgetful of my lofty aim of doing good to Thy children.
May I never see in the patient anything but a fellow creature in pain.
Grant me the strength, time and opportunity always to correct what I have acquired, always to extend its domain; for knowledge is immense and the spirit of man can extend indefinitely to enrich itself daily with new requirements.
Today he can discover his errors of yesterday and tomorrow he can obtain a new light on what he thinks himself sure of today. Oh, God, Thou has appointed me to watch over the life and death of Thy creatures; here am I ready for my vocation and now I turn unto my calling.

Maimonides quote ~
• "No disease that can be treated by diet should be treated with any other means."

---
Marcello Malpighi
b. 3-10-1628; Crevalcore near Bologna, Italy
d. 9-30-1694; Rome (apoplexy/stroke)
Physician to Pope Innocent XII, Marcello Malpighi is also notable for his microscopic studies, giving his name to several physiological features - a layer of skin (Malpighi layer) and two different Malpighian corpuscles in the kidneys and the spleen, as well as the Malpighian tubules in the excretory system of insects.
The botanist Linnaeus named the genus Malpighia in honor of Malpighi's work on plants; Malpighia is the type genus for the Malpighiaceae, a family of tropical and subtropical flowering plants.
---
Jean-Paul Marat
b. 5-24-1734; Boudry, Principality of Neuenburg (Neuchâtel), Prussia, today Switzerland
d. 7-13-1793; Paris
Jean-Paul Marat was a physician and scientist, better known as a radical journalist and politician from the French Revolution. He was affiliated with the Jacobins, the group that implemented the Reign of Terror.
Marat suffered from a skin disease that he sought relief for by soaking in a medicinal bath. He was stabbed while in the bath by Charlotte Corday, a sympathizer with a more moderate political faction.
Jean-Paul Marat quote ~
• "Five or six hundred heads cut off would have assured your repose, freedom and happiness."
• "God has always been hard on the poor."

---
Bridget "Biddy" Mason
b. 8-15-1818; Hancock County, GA
d. 1-15-1891; Los Angeles, CA
"Biddy" Mason, born into slavery, was a skilled nurse and midwife. She is best remembered for walking the two thousand miles she traveled with her owners, eventually getting to the free state of California. She won her freedom in a Los Angeles courtroom in 1856 - even though the law did not allow people of color to speak in open court. As a free woman she became fluent in Spanish, saved her money, and helped anyone who was in need. She also bought property and became a wealthy woman. In 1872 she founded the First African Methodist Episcopal Church of Los Angeles. And because the public school was not open to blacks, she provided the money to start the city's first school for African-Americans. (based on book description)
---
Petrus Andreas Mattioli
b. 3-23-1501; Siena, Italy
d. 1577; Trento
Petrus Andreas Mattioli was a botanist, herbalist and physician. He coordinated the work of Dioscorides with 100 new descriptions of plants, including the first documentation of a vegetable being grown, and eaten, in Europe - the tomato from the New World. He was also the first to describe an allergic reaction to a cat.
---
Dr. Charles H. Mayo
b. 7-19-1865; Rochester, Minnesota
d. 5-26-1939; Chicago

Charles Horace Mayo was one of the founders of the Mayo Clinic, the world's first "integrated group practice", along with his brother William. Other founders included Drs. Stinchfield, Graham, Judd, Plummer, Millet, and Balfour.
---
previous page | top | next
health care practitioners list > a | b | c | d | e | f | g | h | i-j | k | l |
MA | Me-Mu | n-o | p | r | s | t | u-v | w | x-y-z
---
I have searched the web for visual, text, and manipulative curriculum support materials - teaching posters, art prints, maps, charts, calendars, books and educational toys featuring famous people, places and events - to help teachers optimize their valuable time and budget.
Browsing the subject areas at NetPosterWorks.com is a learning experience where educators can plan context rich environments while comparing prices, special discounts, framing options and shipping from educational resources.
Thank you for starting your search for inspirational, motivational, and educational posters and learning materials at NetPosterWorks.com. If you need help please contact us.
---