anatomy


acupressure


addictions


diseases


ecology & environment


exercise


feng shui


mandalas


medicinal plants


mature health


Native American


nutrition


physicians & nurses


psychologists & psychiatrists


theology


yoga

................................
---
---
---

---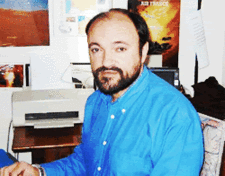 Carlo Urbani

no commercially
available image



Carlo Urbani
b. 10-19-1956; Castelplanio, Italy
d. 3-29-2003; Bangkok, Thailand (SARS)
Carlo Urbani was the infectious diseases physician who first identified SARS - severe acute respiratory syndrome - as a new and dangerous disease. Due to his early warning to the World Health Organization (WHO), a global response was mounted that probably saved millions of lives.
He became infected and succumbed to the disease, requesting that his tissue be saved for research.
• China Syndrome: The True Story of the 21st Century's First Great Epidemic
---
Andreas Vesalius
b. 12-31-1514; Brussels, Belgium
d. 10-15-1564; Island of Zakynthos- on a pilgrimage to the Holy Lands
Andreas Vesalius was an innovative Early Renaissance anatomist and teacher who carried out dissection himself with students present, and kept meticulous drawings, rather than relying on the work of Galen.
Vesalius quote ~
• "Adam sons do not lack a rib, therefore Eva must have originated from somewhere else."

---
Rudolf Virchow
b. 10-13-1821; Pomerania
d. 12-5-1902; Berlin
Doctor Rudolf Virchow is especially known for his advancements in public health and is called the "father of modern pathology" with his understanding that disease arised in the individual cells of a tissue, though his refusal to accept that bacteria caused disease delayed the use of antiseptics that were advocated by Ignaz Semmelweis.
Virchow with Matthias Jakob Schleiden and Theodor Schwann were cofounders of the cell theory.
Virchow was also influential in the field of anthropology, founding Gesellschaft fur Antropologie, Ethnologie und Urgeschichte in 1869; one of his students was Franz Boas.
Rudolf Virchow quotes ~
• "If popular medicine gave the people wisdom as well as knowledge, it would be the best protection for scientific and well-trained physicians."
• "The task of science is to stake out the limits of the knowable, and to center consciousness within them."
• "Medicine is a social science, and politics is nothing else but medicine on a large scale. Medicine, as a social science, as the science of human beings, has the obligation to point out problems and to attempt their theoretical solution: the politician, the practical anthropologist, must find the means for their actual solution."

---
previous page | top | next
health care practitioners list > a | b | c | d | e | f | g | h | i-j |
k | l | m | n-o | p | r | s | t | U-V | w | x-y-z
---
I have searched the web for visual, text, and manipulative curriculum support materials - teaching posters, art prints, maps, charts, calendars, books and educational toys featuring famous people, places and events - to help teachers optimize their valuable time and budget.
Browsing the subject areas at NetPosterWorks.com is a learning experience where educators can plan context rich environments while comparing prices, special discounts, framing options and shipping from educational resources.
Thank you for starting your search for inspirational, motivational, and educational posters and learning materials at NetPosterWorks.com. If you need help please contact us.
---